Mental Health Continuum – Recognising The
Signs
What is the Mental Health Continuum?
The mental health continuum is a range of wellbeing having mental health and mental illness at the two extreme ends. Depending on the circumstances of any individual at any time, they may find themselves at one point of the continuum and shift position as their situation improves or deteriorates. 
What is really helpful is the fact that there are four options, which eliminates having to distinguish different feelings that aren't necessary comfortable to share out loud. It is easier to just say that today, I'm "reacting" and have this being understood correctly.
Another important thing about the Mental Health Continuum is that there is a place for everyone on it, regardless the state of mental health or mental illness. This reduces any stigma significantly because everyone fits in. As the diagram indicates, there's a back and forth motion that signifying change. This mean that anyone who is "healthy" can have times in their life when they are "reacting" and those who are "injured" have the ability to be "healthy".
A significant event such as the Covid-19 pandemic and all that it entails, means there is an argument that we are all currently "reacting" to this. When an individual is "reacting", practising positive Mental Wellbeing self-help and social support techniques and activities regularly, will help them along the continuum towards being healthy again.
There are distinct markers within the mental health continuum: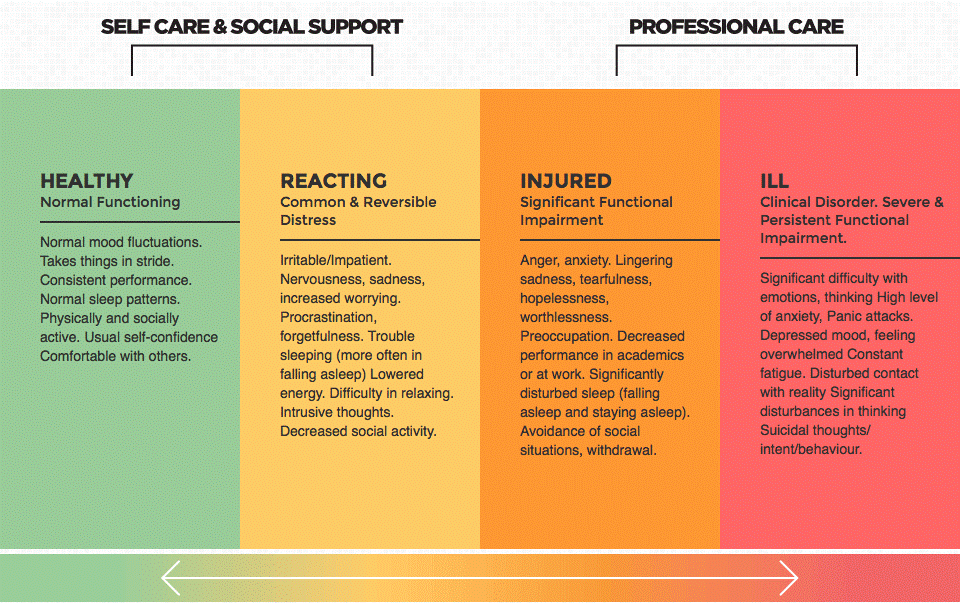 Healthy
People who lie at this point are generally satisfied and happy in their lives. They are emotionally well-balanced, stable, and cope with the normal stresses of life and the challenges that every day brings such as exams. They are able to contribute to their community. Many people practice good self-care and social support such as healthy sleep patterns, regular exercise
Reacting
People who lie at this point may show some distress and inability to cope when faced with a significant event such as a bereavement, but are capable of performing daily life functions.
Injured
People who lie at this point may show distress and inability to cope over a longer period of time and are not easily alleviated by an individual's typical coping strategies. This in turn starts to have an impact on performing daily life functions.
Ill
This is the end of the continuum, and as the name suggests, people falling under this category are unable to cope with stress and exhibit significant changes in their thoughts, behaviours, and actions. Their symptoms can be significant and prolonged that needs the supports of professionals.
We frequently remind our student population that the school views physical and mental health on a continuum. You can alleviate a headache with water and paracetamol just as you can alleviate anxiety by talking through concerns with a member of staff. There are times when we may need to visit the GP, hospital or other professional with physical health concerns and usually would feel confident to make that decision. We need to take the same approach with our mental health.
If you're struggling to cope with your emotions or situations in your life, and want more information about mental health and other resources available within Gloucestershire, then use the On Your Mind Gloucestershire website as a starting point to find out where you can get extra help from.
If you've been diagnosed with a mental health problem you might be looking for information on your diagnosis, treatment options and where to go for support. Mind has information pages about the different types of mental health problems and will help you learn more.