Transition to Chosen Hill
School
Year 7 Transition into Chosen Hill School September 2023

We are delighted to welcome you to Chosen Hill School and look forward to working with you over the coming years on this exciting journey.
This year we will have two Transition Days which you will be formally invited to. We are planning some exciting activities which will finish on the second day with a barbecue, which parents and carers will also be able to attend.
We will be updating this page regularly with up-to-date information, so please check back over the coming weeks.  
In the meantime if you have any questions please contact admissions@chosen-hill.gloucs.sch.uk
Chosen Hill School does not have any contractual arrangements with any bus company, nor are we obliged to provide a bus service for students. Shire Hall only has contractual obligations with regards to the Shurdington route and is introducing service level agreements to cover GCC entitled students with bus passes on commercial services. All other services are provided by the bus and coach companies as part of their service to the public or in response to a perceived need.
Bus tickets can be purchased from Stagecoach or John Dix directly either by the students/parents or by Shire Hall if there is shown to be a legal statutory right to free bus passes. Full details about entitlement to free bus passes can be obtained from Shire Hall (see below), however if you live more than three miles from school (measured by the most direct route including footpaths) and there is no closer school than Chosen Hill School, then you may be entitled to claim a bus pass.
Chosen Hill School has direct liaison with the bus companies, but can only act as a co-ordinator and communication channel. Our influence, whilst not insubstantial, has no power to control or alter the actions of independent commercial enterprises. Timetables may also vary, so please do check with the bus company.
For more information use the website links and contacts below:
Chosen Hill School - office@chosen-hill.gloucs.sch.uk, 01452 713488
Bus Pass Entitlement GCC - 01452 425390
Stagecoach - west.enquiries@stagecoachbus.com, 01452 481630
John Dix Travel - info@johndixtravel.co.uk, 01452 886633
Pulham & Sons (Coaches) Ltd - Reddings to Chosen Hill School (C335BK CH3) - this service is run by Gloucestershire County Council - to apply for a seat on this service contact Gloucestershire County Council.
Daily fares are not available on this route, and any students not entitled to transport assistance who wish to pay for a place need to apply through the website and will only offered a place if there are spaces available.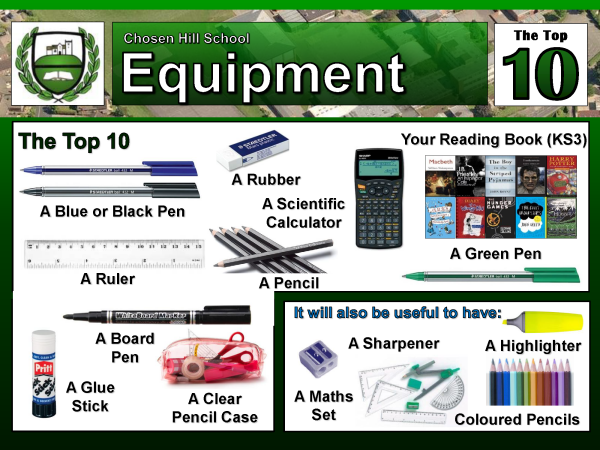 Class Charts is a website where you are able to track your child's behaviour, view attendance records, access their weekly timetable, view assigned homework tasks, view detentions and announcements from teachers. 

Class Charts for parents can be accessed via the Class Charts website, or through the iOS and Android apps.

When your child joins Chosen Hill School, you will receive a Parent code. This code is used to set up your Class Charts parent account. Students will also receive a code so that they are able to access the website and app online. 
Dress Code
Chosen Hill School's dress code plays an important part in contributing to the ethos and values of the school and the learning environment. The uniform allows students to identify with the school and demonstrates their pride in being a student at Chosen Hill, both in school and in the community.
Adherence
Parents/Carers are asked to ensure that their child follows the dress code at all times. Whilst wearing Chosen Hill School uniform, students are representing the school in the local community. Any behaviour out of school whilst wearing our uniform, which falls short of our expectations and which brings the school's reputation into disrepute may result in disciplinary action.
Uniform is an important area, which helps to set the standards. The school has a clear dress code, but this does not always ensure that this is worn correctly. Parents/Carers can help the school by checking that your child leaves home wearing the uniform correctly. This includes jewellery.
General Rules:
The school blazer should be worn at all times. A jumper or cardigan cannot be worn in place of the blazer. During Terms 5 and 6 the blazer can be worn with the school polo shirt.

All items must be clearly marked with the owner's name.

Watches are acceptable but necklaces, bracelets and rings may not be worn.

Body and face piercings are not allowed.

A small, plain, single stud earring may be worn in each lobe which must be removed for Physical Education lessons. Ear bars and 'stretchers' are not allowed.

Moderate, natural looking make-up only.

No false nails or eyelashes. Nail varnish should be natural looking only.

Hairstyles should be tidy and inconspicuous – long hair should be tied back during PE or practical lessons.

No extreme styles or unnatural hair colours are allowed.

All students must be clean-shaven.

Coats must be plain. Please note that no other jumpers, cardigans, denim or leather jackets, hoodies or sweatshirts are allowed and will be confiscated on site.

Hats should not be worn around school.

T-shirts and vests should not be visible under and hanging below shirts.
Compulsory Uniform Items:
Standard green blazer with Chosen Hill School badge in white on pocket.

Black formal school trousers – trouser hems should hang to a length no more than 1cm above the ankle. Reminder: any other trousers are NOT school uniform. This means not jeans, leggings or jeggings, skinny or slim fit i.e. not tight around the ankles. See Uniform Acceptability Check below.

Plain white formal collared work-style long sleeved shirt that must be tucked in. There should not be a gap between the bottom of the shirt and the trousers.

Standard school tie, with green and silver bands (standard tie knot covering the top shirt button and with 10 or more stripes visible below the knot).

Socks must be plain black.

All black formal and professional flat-heeled plain shoe with an instep – these should be of a material that can be polished. No trainers, plimsolls, suede/canvas shoes or boots to be worn. Heels may not be higher than 5cm (2in) for safety reasons on stairs in school. See Uniform Acceptability Check below.
Optional Uniform Items:
Grey plain long-sleeved V-neck jumper or grey long-sleeved cardigan – permitted if worn under blazers (not visible below hem or cuffs or blazer) – optional. No branded logos or pattern.

Knee length black drop waist pleated skirt with the Chosen Hill School logo below the waist band, (only the skirts approved by the school and provided by our uniform supplier). The skirt should not be shorter than 5cm above the top of the knee or longer when the student is standing. There should not be a gap between the bottom of the shirt and the skirt.

Black formal tailored school shorts. Reminder: any other shorts are not school uniform.

Plain white formal short sleeved collared work-style shirt that must be tucked in. There should not be a gap between the bottom of the shirt and the trousers or skirt.

Plain black or grey tights. White socks over tights are not permitted.

A functional plain black belt may be worn to hold up the trousers. No wide or fashion belts.

A white short-sleeved polo shirt with the school logo may be worn without a tie in Terms 5 and 6 only. Polo shirts can be purchased from Monkhouse Schoolwear Specialists who have a store in Cheltenham and Gloucester.
PE Uniform Requirements:

Dress code for September 2023
Boys
Girls

Green/red reversible rugby shirt;

Black shorts;

Green games socks with white tops;

Green and White School Logo Polo Shirt

White socks (non branded);

Trainers – any colour;

Rugby or football boots (essential for outdoor activities on the field).

Optional: skins (top & bottom) – plain black, (NB. tracksuit bottoms are not suitable for rugby and football) no large logos.

Green and White hooded sweatshirt with school logo;

Black skort;

Green games socks with white tops;

Green and White School Logo Polo Shirt

White socks (non branded);

Trainers – any colour;

 

Optional: black shorts/ leggings/ skins/tracksuit bottoms – plain black, no large logos or mesh sides (CHS leggings available from Monkhouse Schoolwear Specialists).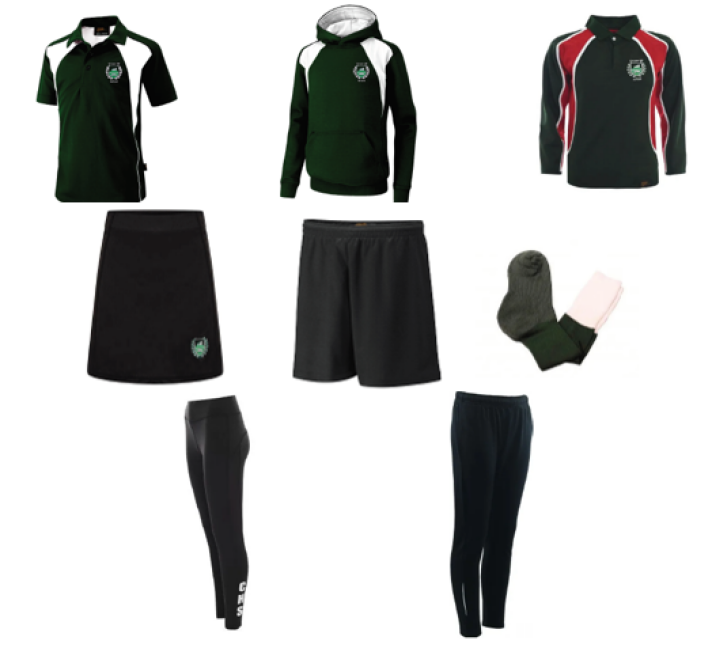 Second Hand Uniform
Chosen Hill School holds a wide selection of good quality second hand uniform. Please contact the School Reception or Mrs Valente in the Reprographics Room if you are interested in purchasing second hand uniform.
Uniform Loan
The school holds a selection of uniform that will be loaned to a student if they arrive in school wearing any item of uniform that is incorrect.
Uniform Supplier
The school's uniform supplier is Monkhouse Schoolwear Specialists. The school is helping to keep the cost of uniform down, by reducing some of the branded items as compulsory uniform. This means that although many of our parent will use the school's uniform supplier, other high street options such as supermarkets are available.
Uniform Acceptability Check
Acceptable Footwear Examples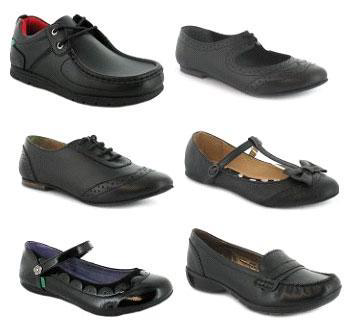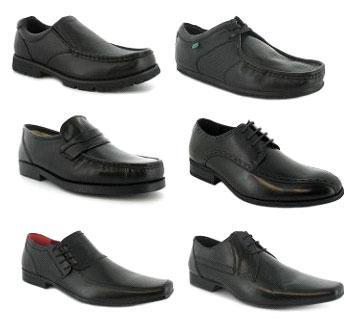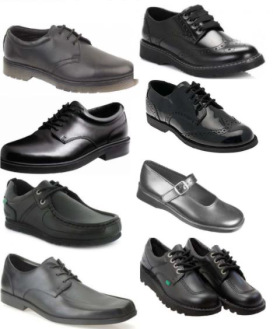 Unacceptable Footwear Examples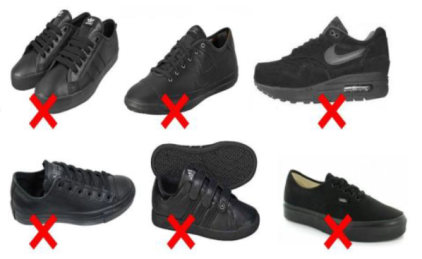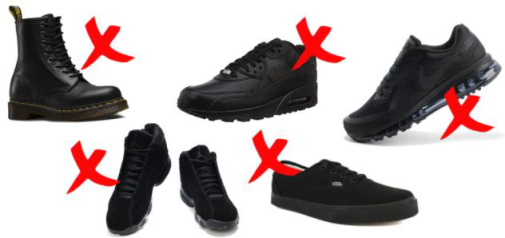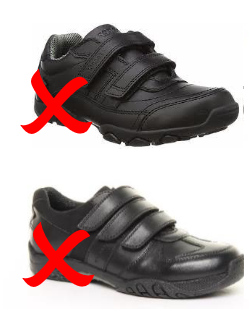 Acceptable Trouser Examples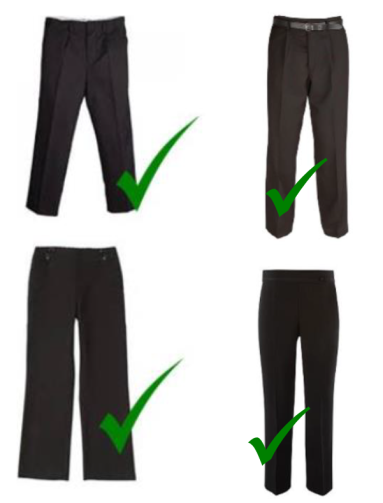 Unacceptable Trouser Examples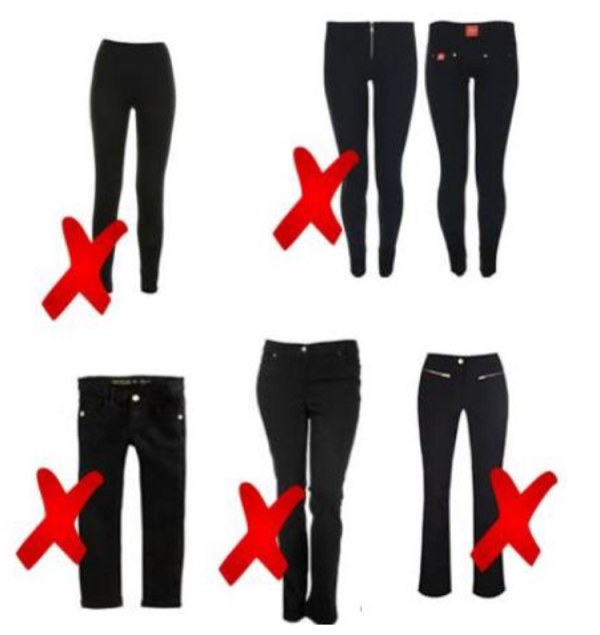 We are a fully inclusive school and committed to equality. This is reflected in our school aims, school standards and in our statement of intent.

We recognise that students eligible for the Pupil Premium may have significant barriers to learning, and so we are committed to using research-based best practice to enable our students to access the curriculum and have the opportunity to succeed.
It is our intent that all students who attend Chosen Hill School are successful regardless of their academic, economic or social background. We are ambitious for all our students, and we are deeply committed to challenging them to achieve more than they first thought possible through high expectations, quality first teaching and the highest possible standards of pastoral care.
Our policy is that all of our students have the potential to achieve at, or beyond, their indicated potential. All students are valued as individuals and the Pupil Premium Grant is used judiciously to ensure there is capacity within the school to support them in achieving success.


Our policy is based on the belief that the Pupil Premium should be used to:
Promote equality throughout the school so that those who may need more support can receive it to achieve the same as other learners;

Engender a feeling of belonging as a member of the school community;

Ensure, when possible and appropriate, at least 20% of students on extracurricular experiences are eligible for the pupil premium;

Highlight eligible students and signpost appropriate support for their learning needs;

Provide support from outside agencies to ensure eligible students' social, emotional and mental health needs are met.


Our Pupil Premium Manager will:
Ensure that eligible students' emotional and pastoral wellbeing is a priority for all staff;

Support eligible students and families to access appropriate support if required.

Track and monitor the academic progress of all Pupil Premium students.

Support parents to bring to the school's attention any issue that may be considered to be a barrier to learning;

Support parents and carers to attend appropriate school functions that relate to their child.
The catering providers at the school are Innovate.
We are pleased to announce a new partnership with Innovate to provide our school canteen services with effect from 1st September 2022.
Innovate are very keen to work with us to offer a wide range of nutritious food with a restaurant style service. There is a breakfast service that includes free porridge every morning for all students, break options that include freshly cooked hot and cold deli items and lunch options that will include soups, salads and main meals. There will be options for vegans and vegetarians and a special offer for the sixth form. Please see the menus for options. Menus are on a 3 week rotating basis.
Prices range from £2 to £2.35 for a meal deal.
If your child has any food allergies or specific dietary requirements, please let us know so that we can cater for any special requests.
We will continue our pre-order service, initially for lunch time only via the Fusion App which can be downloaded to your phone. This allows you to pre-order up to 3 days in advance and ensure your choice is waiting for you. For more information, and to request a code please email office@chosen-hill.gloucs.sch.uk.
If you have any questions about catering in the school, please contact the business manager Mrs D Wardlaw in the first instance on office@chosen-hill.gloucs.sch.uk.
Biometric Payments in the School Canteen
As you may be aware, we use voluntary automatic biometric recognition systems at the school. This is used currently with teaching and administration systems such as cashless catering and 6th form registration and may be used for printing, access, lockers, and e-registration systems in the future.
We find this provides the school with a number of very significant benefits including:
Reduction in administration time and cost

Reduction in opportunities for bullying as there is nothing that can be stolen for use by another student

Ease of access to services for students and no lost cards or pins to remember

Quicker queueing times for lunch