Cheltenham Literature Festival
2023
Chosen Hill School at the Cheltenham Literature Festival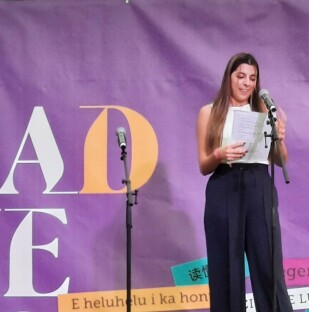 Hiva Hesso was a sixth form student last year and Head Girl. She is now studying Primary Education at UWE-Bristol. Hiva recently compered an event at the Cheltenham Literature Festival on Saturday 7 October at "The Huddle" venue. As part of Black History Month Cheltenham young people share their monologues on stage to an audience of the public, parents and VIPs. Cheltenham Alliance for Race Equity launched a competition in schools for young people to tell their story of what it is like to live in Cheltenham by writing a monologue or making a picture.
Hiva introduced the event by reading her monologue, then introduced each young person to the stage and read aloud some monologues of students unable to attend the event.
Congratulations Hiva, the school is very proud of this achievement and especially your monologue called "Always remember that you've gone through so much and anything is possible".
Always remember that you have gone through so much and anything is possible
"I moved from Egypt to England in Cheltenham in 2016, so that's 7 years ago.  Cheltenham has been very different from where I used to live.  There are lots of trees and green space.  Cheltenham has also been very diverse with so many people from everywhere.  In Egypt, most people lived in apartments, but here most people live in houses.
When I joined school in Year 7 here, it was very hard to make friends due to my English barrier and it took me a while to adapt and make friends.  I picked up English by listening to everyone around me and adding things together.  I had English as an additional language lessons once a week or once every two weeks until I was in Year 10 but then Covid got in the way, however, I did have lots of support from my amazing teachers.
I have always liked school, however, there were times that I was made fun of, however, that is all over now and I'm Head Girl here.  Becoming Head Girl at the end of Year 12 and then doing the role in Year 13, I have had to be responsible for events in school and running socials and clubs, in addition to assemblies.
To become Head Girl we had to do a campaign about why we wanted the role, make posters, and write a letter to the Head of Year.  It was very stressful and I didn't think I would get the role as there were about 8 of us that went for it.  It was something that I wanted to go for since I joined the school.  When the results were announced, I was in total shock in that I had the highest number of votes considering I wasn't very popular.
I would say to someone who is coming here from another country that it is going to be very difficult and that you will face all different types of challenges but you will get through it.  Always remember that you've gone through so much and anything is possible if you put your hopes and head into it.  Always have that growth mindset!"
Hiva Hesso - age 18.